LEADER /
PROPHET
/ AUTHOR
Depending on the taxi driver, hairdresser or shoe salesperson who asks her, Emma will either say that she is 'a prophet who hears from God', 'a travelling lecturer in spirituality', 'a church pastor' or 'a mum of three wonderful children'. If they are being particularly irritating she will tell them she is 'an exorcist'! The real answer is that she is actually all of the above – and much more!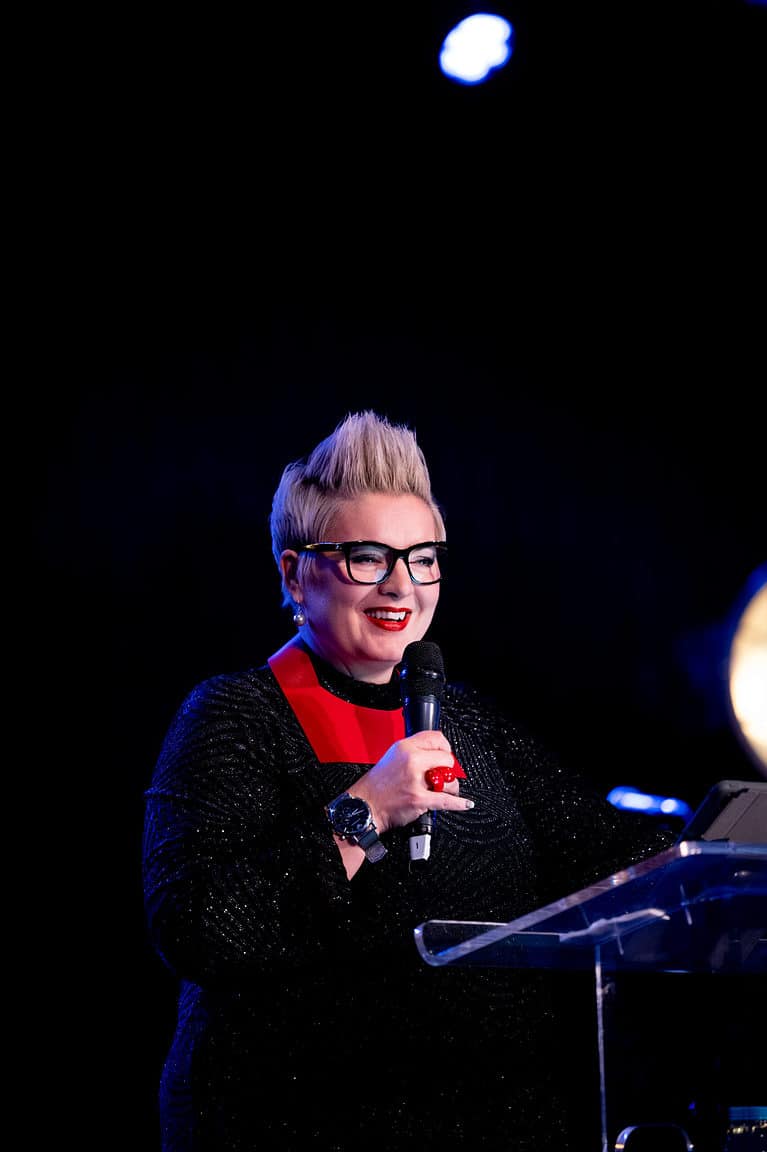 Helping people listen to God more
When Emma founded Glasgow Prophetic Centre with her husband, David, her aim was simple: 'listen to God more – and help other people do the same'.
Emma Stark is an Irish prophet, author, leader, and broadcaster, known by many around the world for her popular online shows and podcasts such as Power Hour, What The Prophets Say and At The Stark's Table.
She operates with authority and authenticity as she ministers and teaches around the world, giving clear and direct prophetic input to leaders, churches and ministries, equipping the body of Christ to better hear from God and to apply His revelation to transform lives, communities, cities and nations.
Emma, with her husband David, founded an international network called the Global Prophetic Alliance (GPA). She also leads the British Isles Council of Prophets.
From GPA's hub in Glasgow, Scotland they host – amongst other things – a house of worship, an internship programme, a Raising Prophets mentoring course for emerging prophets and a church, Power Church.
A fourth generation Bible teacher, she has written books including The Prophetic Warrior, Lion Bites and Freedom from Fear and her latest, Becoming The Voice of God will be published in 2023.
Born in Northern Ireland into a long family line of church pastors, Emma communicates with clarity, humour and a fearless Celtic boldness! 
Emma's father, Pastor John, was a local Baptist church pastor for over 40 years and now works alongside Emma and her team as teaching pastor and 'in-house theologian'. This background has given Emma a deep love for the church and she loves nothing better than to spend time in prayer, worship and the study of Scripture before teaching, preaching and activating believers into their God-destiny.
Over the years, Emma has been a successful corporate business manager, a media spokesperson, a trained counsellor and a student leader. David and Emma have been involved in leading healing ministries at the local and national level for many years and they have apostolic responsibility for a variety of ministries, ministers and Kingdom businesses.
Check out Emma's weekly podcast!
David and Emma live in the heart of the historic city of Glasgow with their three remarkable children, Jessica, Peter and Samuel, and their Labrador Retriever, Joy.
Nov 10th – 11th 
Doxa Encounter Ministries
Portsmouth, England
Nov 12th
Catch The Fire Bournemouth  
Sunday Service 
Bournemouth, England
Jan 5th
Elim Wimbledon
London, UK
Jan 12th – 14th
GPA Start The Year Right
Glasgow, UK
Jan 19th – 20th
Frontrunners Ministries
Ede, Netherlands
Jan 27th – 28th
I am Equipping Centre
Reykjavik, Iceland
Feb 2nd – 4th
Prophetic Voice Conference
Denmark, Copenhagen
Feb 16th – 18th
Willow Church
Lake Jackson, Texas
Feb 23rd – 24th
School of Deliverance
Montreal City, Canada
Emma broadcasts weekly, live from Glasgow, bringing fresh prophetic insight for the nations and the global church. Check it out here!